"Excellent work and quick response. I will recommend this service without a doubt."
– Rick C., Author
WORLDWIDE ACCLAIM
PaperBlazer is loved by people around the world. We help researchers, novelists, businesses, and more.  So when you need proofreading and editing, look no further.
Writers from our 35 countries around the world use PaperBlazer.  Our results speak for themselves.
Scroll down to see what people are saying about us.
SAMPLE EDITS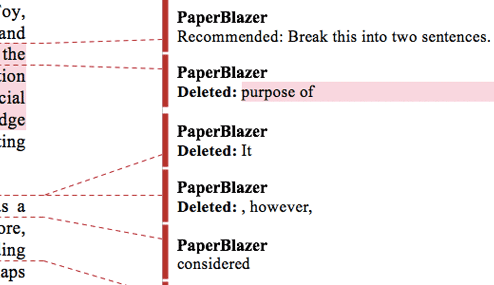 ---
---
OUR CLIENTS
Our clientele includes researchers, novelists, businesses, and government agencies. We have edited for individuals and million-dollar companies, and we have helped researchers from high-caliber institutions and organizations, including:
Oxford University
The European Union
The University of Cambridge
University of Michigan
The United Nations
Stanford University
And many others!

PaperBlazer Reviews
"PaperBlazer went above and beyond my expectations!"
– K. L. 
"You have done a great job in proofreading my drafts. Thank you for everything."
— Jian, a Ph.D student at Northern Illinois University
"Thank you so much for your help."
— Melody, a student from Hong Kong
"Thank you very much for your help! I put in many more hours, improved your remarks and really refined the paper. Just handed it in and feel pretty relieved now."
— I.L., U.K. graduate student
"The pressure of dealing with college professors and the stress of being a working adult is taxing, but your company provides professional and fast service that is always on point…once again, I thank your company from the bottom of my heart for the outstanding services you provide."
— S. G., an online college student
"Thanks a million. I really appreciate the service."
— N.P., a graduate student from Missouri
"Dedicated to high academic achievement. "
— Margie D., a professor from Ball State University
Video Testimonial
"I have been working on masters and doctorate level courses for the past six years. I was sad that I only heard about PaperBlazer this past academic year, because they were absolutely fantastic, and I would have loved to have used them from the beginning.
The most important thing for me was their adherence to a great set of ethical standards for work submitted to them by students. What impressed me most about their work was the turnaround time. I paid on a few occasions for expedited service, and the quality was not compromised.
They were extremely thorough, and the individualized attention was great.
I am a much better speaker than I am a writer, so PaperBlazer was that extra set of eyes to help tidy up grammar, punctuation, and APA formatting. They also told me where I needed to expand my thinking and be clearer for my readers.
Corresponding through the chat box was fantastic as they answered my many specific questions.
-Andrew, graduate student at a North American University
– – –
For additional reviews of our proofreading and editing service, read our TrustPilot reviews here.