Are you applying? Editing an important application?
If you are, you'll likely need to write a cover letter and essay questions. Of course, your first draft will not be perfect, so you will also need to edit your application.  To help you, here are five tips as you review and revise your applications:
1. Keep it simple.
A common myth is this:  "Write complex, so they are impressed." The reality is that overly complicated writing can undermine your purpose.
After all, you want to communicate clearly, not confuse readers.  Some of the best applications are direct and clear.  (Remember that most those reading your application want to accept you, so as long as you do not confuse readers, you will do well.)
We've seen many applications, and the most common mistake is "faux impressing." The goal is to share information, not to overcomplicate, so remember that simplicity is a virtue.
2. Keep it short.
A beginner mistake is writing too much.  In almost all cases, you can say more with less.
Think about it.  Whoever is reading your application (e.g., a potential employer or school) is reading hundreds of applications.  If yours is too long, the readers will likely lose interest.
Never go beyond the word limit.  That is a big mistake, but also remember that you can go below the word limit.  Good writers know how to be concise.
3. Use narrative.
Your application should stand out from the others.  How should you do that?  Make it personal.  That way, your application will read and feel different.
In being personal, though, remember to include some short stories.  Your life is unlike any other, and people love stories.  Rather than writing vague, abstract statements (e.g., "I really like learning" or "I will be professional"), prove it.  Tell stories to show those attributes.
Not only will that be more fun to read, but it will be more convincing to your readers.
4. Read and re-read your text.
No one writes a perfect draft. Even the best writers need to revise.  For that reason, review your text multiple times — since most other applicants are.
When doing so, read aloud. You are more likely to catch your errors and find awkward sentences.  There are lots of ways to proofread and edit, but this is perhaps the most helpful of all.
5. Ask for help.
Did you know that many, if not most, applicants ask for help?  Whether you're applying for a job or grad school, you can ask a friend, relative, or editor to review your document. Do not have them write for you, of course, but ask them for feedback.
Employers and universities know this is the case. It is common knowledge, in fact, so there is no reason to avoid a second reader. Getting help is what most applicants do. That way, you can present your best self — so your future is not hindered by a few writing mistakes.
Application Editing: How to Get Help
If you decide you need help, let us know.  PaperBlazer specializes in editing applications.  Here are some of the ways we help, and why you should use our services:
Ethical Approach
Unlike other services, we do not write for you. This is your application after all, and we do not put words in your mouth.  Instead, we choose a better approach: We help you review and edit your document. In doing so, we maintain your personality and voice — so it is your document, not ours.
Affordable Service
You're transitioning, so budget matters. We recognize that, which is why our prices are the lowest in the industry. When you compare both turnaround and price, no one else compares. With PaperBlazer, you will save yourself trouble and cost.
Professional Results
We've been editing applications for years.  That's why we offer the best results. Reviewing so many applications makes us an expert.  You've seen yours, of course, but we've seen countless.  For that reason, we know what is expected and what is possible.  We compare and revise accordingly.
To get help now, place an order.

Sample Edits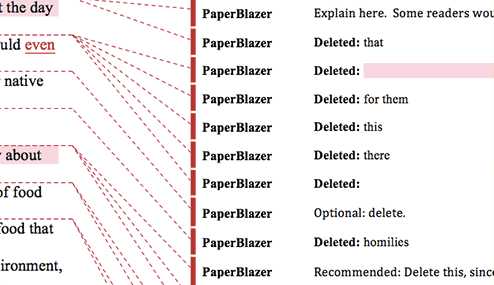 Need more proof?  Check out our testimonials!
CONFIDENTIAL & SECURE