Do you need fast editing service?  To ensure quick turnaround for your document, here are some suggestions that will help:
Use a service that you trust. Some websites will promise fast service, but they can only deliver within a few weeks.  Be sure that you use a proofreading or editing company that will actually help you in a short amount of time.  PaperBlazer has been helping writers for years, and we specialize in rush orders. Over 99.9% of all documents are completed within hours, and you will be amazed by our blazing speed.  After all, it's in our name!
Consider the price. Express editors will often charge you more than they need.  Why should you pay more for proofreading?  PaperBlazer features discounted rates and even offers free speed upgrades.  As an extra bonus, if you have a short document, you can always contact our chat support to see if we can edit your document faster.  For example, some 200-word documents can be ready within a few minutes.
Rely on experts.  When you're in a hurry, it's tempting to forgo proofreading and editing, but revision is the most important part of writing.  If you need to impress a client or publish an article, don't skimp on what matters most. More importantly, don't trust automated software or computerized grammar checkers with your precious words, since they will miss errors and make unhelpful suggestions.  Instead, ask a real human being, an editing professional, to review your document.  PaperBlazer has years of experience in quickly editing all kinds of documents, including dissertations, novels, articles, letters, and resumes.  When you're in a rush, don't do it alone. Trust a professional.
Choose a fast solution. 

Keep in mind that proofreading and editing services are not the same.  Some options, such as software-based editing, will point out grammar errors, but you need to go back and make all of those changes.  So much for fast turnaround speed!  At PaperBlazer, you instantly upload your document, and

we quickly proofread and edit for you

.  With Word documents, changes are made in text itself, which saves you time.  (The only time we don't is when we cannot determine your meaning or intent; in these cases, we add a comment on the side for you.)  In other words, we do the hard work, so you don't need to make all of those changes yourself.  
PaperBlazer provides fast proofreading and editing service within hours.  Select basic, plus, or premium for whatever suits your needs and budget.  When you're in a hurry, use PaperBlazer to edit your document.  Same-day editing service is available 24/7.


Sample Edits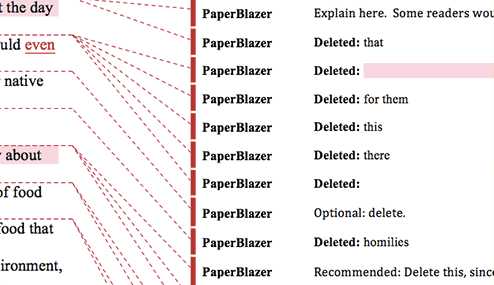 Need more proof?  Check out our testimonials!
CONFIDENTIAL & SECURE